---

This is not cheating, I promise. - I am about to lade Bob and the trailer on a freighter for Alaska, and I set sail tomorrow, the 3rd of July, from Tacoma, Washington. The 3-day journey will take me to Anchorage, where I will explore our beautiful, 49th state. This is a darned sight better than pushing that hog through 4,000 miles of Canadian wilderness, without a story for miles. I can't wait to romp around the glaciers during the midnight Sun and watch the natives live on whale blubber (well, a few of them, anyway.) I can't wait to board the ship and hunker down with this 2-pound appendage of mine, and crank out some more articles (I have 4 in the bag.) I can't wait to see the incredible, open sea. I can't wait.

---

In the Land of the Midnight Fun - I had incredible trips to and from Alaska, with TOTEM. The crews were magnificent, the ride was smooth and the food was delicious - it made me consider a career in the merchant marine. These guys live a pretty good life, if you can stand living away from home for months at a time, in a house that can rock, roll and heave 24 hours a day. To tackle a bout of motion sickness, I nearly asked the Captain if I could head below deck and sit on my bike a while. This time of year, in Alaska, it doesn't get very dark at night, and they even hold midnight baseball leagues. Here are some stories about the crews and life on a merchant sea vessel.

A Low Crime on the High Seas
SATURDAY, JULY 2 - MONDAY, JULY 5, 1999
100 MILES OFF THE PACIFIC COAST
Isn't the real crime Mark's latest attempt at fiction writing?
Posted July 16, 1999

Ride through the Great Lakes with a river pilot!


A Seaman's Life.
MONDAY, JULY 19, 1999, COOK INLET, ALASKA
Get a taste of life at sea, and meet the crew who (safely!) brought Mark back to the lower 48!
Posted August 3, 1999
---


Where There's Hope... 15 years ago, Susan Anderson watched the closing of the schoolhouse in which she grew up, in a town called Hope, Alaska, on the Kenai Penninsula. Rather than see it turned into just another home, she decided to create a library for the small town. She applied for and received an annual grant, she rallied the 200 residents to pitch in, and she spent thousands of hours on the project. Hope now has a respectable library - its only community building - where you can relax, read and enjoy good company.
---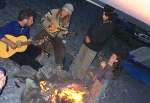 The town of Homer, Alaska offers primitive, tent camping on the beach for only $3 a night, and I would much rather camp here than across the road in the campgrounds with the motor homes. I made a few friends here, and listened as they played guitar and mandolin, and we enjoyed a beautiful fire and a midnight sunset, and as I left the next day, I saw a guy on top of a huge RV, banging on his satellite dish in frustration.

---
Fish Story - It's the same scene as on charter docks around the country, except here, people regularly catch 100 - 200 pound fish, namely, the popular halibut. ("Kick 'but!" the ads say.) I spoke with a Fairbanks couple, who come down to Homer each year, to fill their freezer. After charter fees and freezing cost (70 cent/lb) the fish isn't exactly cheap. "You don't figure it by the pound," the girl said. "You figure it by the fun."

Homer, Alaska is an old mining town, turned fishing village, turned tourist haven, and the real attraction is a 4-mile long peninsula of sand and stone that stabs Kachemak Bay, that they have romantically named "Homer Spit." The fog was very heavy, so I had no idea of the beauty of this place until I was midway across the spit. A low bank of fog covered the water and let the peaks of the Kachemak Range loll through, like diamonds and jewels on a bed of spun cotton. I couldn't get a good photo of the sight - it was a magical moment - and I feel utterly inadequate as a writer even trying to describe it to you. I picked up this shot of town, on the way back, and had to fight a few protective ravens for it.

Ducks!
---
Broken Record - On David Crosby's "1000 Roads" album is the song "Natalie;" a sweet, weepy tribute to an old friend. As I pulled into the beach camping area on Homer Spit, I asked for details from a girl, who looked to be in her 20's. Now folks, I have had a strictly "all-business" attitude this entire trip, and I have been way too busy to socialize, but darned, if all it takes is a beautiful woman who actually shows the slightest interest in you to stop a man dead in his tracks. I killed my bike's engine and struck up a conversation. She was with a guy, but it was her brother in law, and her sister was there, also. The math came very quickly, to equal an evening around a campfire, filled with at least inspired conversations. I excused myself, drove to the office and sprung for the camping fee - something I haven't done since December in Laredo, Texas - and I returned to set camp. Sure enough, she was there, packing up the car. "We've decided to catch the ferry to Seward," she said, as I crumpled the receipt in my hand. This past year, I have enjoyed avoiding the emotional tumbling dice of establishing relationships and going through their cycles, and I have not missed the anxiety and the pitfalls wrought by these. I had no great hopes during the few minutes I spoke with her, but I did have some kind of hope, and when she told me her name - Natalie - I felt that I was riding down one of Crosby's 1000 roads.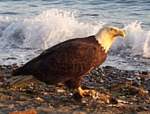 Just another day... Camping out on the beach around here is a great way to meet wildlife. We were sitting around a fire when a bald eagle swooped down and started his dinner right on the shore. He seemed pretty accustomed to people, as he didn't budge when we approached him - I was about 12 feet away. When he was done with his meal, he brought out those tremendous wings, pulled himself into the air and left us all here on the ground, mouths agape.

---

Date: July 13, 1999
Location: Fairbanks, Alaska
Recent Stops: Ninilchik, Valdez and North Pole, Alaska
Next Stop: Denali National Park
Mileage so far: 34,654
Check your hat (on) the door - Next time you're driving Route 1, down the Kenai Peninsula, stop at mile marker 111, at the Tustumena Lodge, which is for sale. Actually, as the sign says; "15,000 hats for sale. Bar and restaurant included." When a friend of the owner, John Cook, died 7 years ago, his wife asked Cook if he would take the man's hat collection off her hands. He obliged and didn't think much of stapling the hundred or so ball caps to a beam in his bar. Well, this idea took off, and Cook is presently up to his ears in hats. It is now a solemn tradition here, to give your family your estate, and the "Big T" your hat collection. He actually has about 16,000 hats so far (no duplicates) and says the restaurant will be in the Guinness book. "Once each year, we open the windows, bring in an air compressor, and blast them all clean," he says. "I'll expand the place, so I can hold more hats, as soon as my rich uncle gets out of the poor house." Cook says musicians love playing there, as the hats make for great acoustics. The customers think they make for great reading, especially the "F- -K Exxon" hat.

---
Where's the @&*!#& Road! - Up around Tahnita Pass, I rode through a series of these poles, draped over the road like light poles. But there were no lights, and I couldn't figure out what the heck they were. After a mile or so, I felt that I had just been microwaved, or something. I stopped near Glenallen, and practically begged Bill Weaver to tell me what they are. "They're reflectors," he said. "Up on the pass, the snow blows so hard, you can't see where you're going. People would drive off the road, and wouldn't be seen until spring."
---

Another unusual, beautiful site in this unusual, beautiful place - The Alaska Pipeline. There more oil up here than anywhere in our entire country, and even a refinery, so why are gasoline prices do damn high? Because they can be, that's why.
---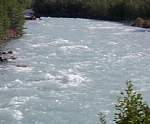 Bottled with a twist of Lime - This is "pure" glacier water. It looks like tropical, saltwater, but is fresh from the mountain. Glaciers crush rocks into a fine powder, which is carried with the melted water. When this water mixes with pure, stream water, it turns green. The dark figure you see in the upper left, is a moose, trying to ford this river.
Speaking of moose; be careful on these roads. I remember the grocery store owner in a small, Vermont town who processes moose killed by cars. The state police call him after an accident, but he usually gets the first calls from anxious customers who listen to police scanners.
---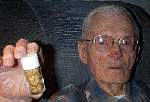 Golden Oldie - I met Harrie Hughes while at Circle Hot Springs, named because it is near the Arctic Circle. I had never been to a hot springs and let me tell you, there is one really nice thing about them; One thing I hated about the Maine winters is when you have to go to the bathroom, and you are chilled to the bone, and you go on in there and drop your drawers - and you've got goose bumps already - then you plop yourself down on an icy-cold seat. It just isn't fair. But, at a hot springs, they get their hot water naturally, and free, and so, even the water in the... um, under the seat is warm, thus, so is the seat, and let me tell you, that is comfort! Anyway, quite a character, that Harrie; he is one of the few men who made money off of gold mining without lifting a shovel or pan. Hughes, who turned 100 in April, buys and sells gold. "The miners would go to the bars, and they would spend all their money," he says, with all his determined enthusiasm. "And they needed more, so I would buy their gold from them!" In this bottle is 3 ounces of gold. I asked if he could pour some in his hand, for a photo, but he knew better; "you don't open the bottle until you're ready to melt it or sell it!"
---
Attention Campers, extra savings in our lingerie department! - This may seem extremely odd to those of you in the lower 48, but in Alaska, people camp everywhere. I feel safe while camping on the side of the road up here. Department stores, like Wal-mart and this Fred Meyers, in Fairbanks, just let you make your home in their parking lots. That clock, by the way, reads 9:58 p.m. and the sun isn't evening thinking about setting yet.
---
This, from the "DUH!" department (Part II) - Alaskans just love to put unusual things in the roadway, to scare unwitting tourists, and to give delusional people new topics of conversation. I passed through this gauntlet of strange looking poles, while riding north of Fairbanks, and again, I sensed that some experiment was being conducted on me (see below.) I stopped an innocent local and beat an answer out of him. He said they are part of a system which actually freezes the ground below the road. I told him he was a liar, and he continued. It seems that this part of the road, under which the oil pipeline passes, is subject to expansion and contraction during the changing seasons. They tried everything to get it to stop freezing in the winter, but failed. He said that "just some ordinary guy" came up with the idea of just freezing the ground year-round. Duh.


Above the Wilderness
TUESDAY, JULY 13, 1999,
FAIRBANKS TO CIRCLE HOT SPRINGS, ALASKA & BACK
One out of five Alaskans is a pilot, and I'm up here with one of them.
Posted July 22, 1999
---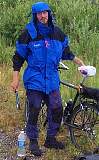 A Real Biker - I met this German guy while camping on Summit Lake, on the way from Valdez to Delta Junction. Yen was his name, and he was pedaling that bike all over Alaska. He slept in a little tent, and I felt a bit spoiled in my camper. He looked inside, and saw my computer, inverter, radio and cameras, and said; "you have in here... an agency!" Yen pedals 70 miles each day, which takes me less than 2 hours, but would take me a week, his way. It's a good thing I'm not riding his way, because I rode 30 miles just to get my last story.
---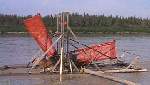 A story I missed - I tried to get this story for you, but the subject wasn't very willing. This is a "fish wheel" which native Americans are allowed to use up here, to harvest salmon from the rivers. It stands about ten feet tall, and the current keeps the baskets spinning. Facing downstream, the baskets scoop up fish as they try to swim upstream. I didn't see many fish flop into the hopper as I sat and waited a half-hour, before the owner showed up. I had hoped I could help unload it, or fix it - maybe nail a few more birch timbers to it, but he shooed me away. Sometimes I have the hardest time covering the truest Americans.
---
A Good Dick - His name is Dick, and he is skinny, and when he bought an Inn that was halfway between Fairbanks and Nenana, Alaska, he had little choice but to name the place; "Skinny Dick's Halfway Inn." I didn't think that worthy of writing about - though it was fun - until I heard about all the dollar bills on the walls and ceiling. Many bars have this decor, usually provided by proud, drunken patrons, but this place is different. Every few years, Dick lets a local charity (the VFW) come in, and tear that wallpaper down. "That money gets so old and dirty after a while, I let them clean the place up," he says. So far, he says he has given away about $5,000 this way, and that makes him a Good Dick.
---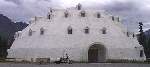 The best laid gimmicks of mice and men... Saw this contraption near the Denali range. I asked around, and learned that it was built to be a hotel, "Eskimo style." (See my tiny motorcycle by the door?) Seems that the structure was never opened, because it couldn't meet fire codes. Harrummph! Imagine that, an igloo not meeting the fire code.

---

Date: July 16, 1999
Location: Anchorage, Alaska
Recent Stops: Talkeetna and Denali, Alaska
Next Stop: Seattle
Mileage so far: 35,093
I love it here! - I love riding my motorcycle. Don't ask me why, because I can't explain it. You know you truly love something, or someone, if, when asked why, you just can't give a satisfactory answer. It's because, if you give one reason, it will seclude all the others. It's like asking; "what's in that chowder?" Of all the states I have visited, Alaska seems to affect its people the most. People who claim to love their state will usually give an enthusiastic reason, such as "the weather!" or "the shopping!" During the 10 days I have been here, I have asked many people two questions; "How do you like living here?" and "Why?" Most confessed to a deep love for this state, but when asked, they couldn't give much of an answer, like my friend Woody, who let me camp next to his airplane. Alaskans just give you a goofy look, and shrug their shoulders, and when you ask where else they would like to live, they give you a puzzled look, and shrug their shoulders. This is true love.
---
On the Air - I have a radio in my camper, and at night, as I crank out these jewels of journalism, I listen to whatever I can pick up. Sometimes, I get some cute stations (the ones out of Canada are a hoot) and I have long wanted to cover this medium. I remember the station in Key West, with "Bizarre Bazaar!" a call-in swap shop show; "I have a Boston Whaler I'd like to sell, and a half package of Pampers - call me for prices." I have heard several stations broadcast readings of the local newspaper for residents who can't read. (Done by volunteers - and it shows, adorably.) I have listened to dry police reports, obituaries and hospital notices; "Norma Cooper is back home after having her gall-bladder removed. She would like everyone to know that she is still alive..." There was the live broadcast of the chili cook-off somewhere in Texas, where I am sure they just left a microphone on a picnic table and let whomever come up and talk, whenever. While in Alaska, I found the perfect station, one so loved by its volunteers, that they won't even wear mud-tracking shoes into the studio. "No boots in here," the unimpressed announcer chided me as I wandered in.


Staying Tuned
THURSDAY, JULY 15, 1999, TALKEETNA, ALASKA
In this tiny log cabin, nestled away from clamoring tourists in this small, Alaskan town, ordinary people do extraordinary things.
Posted July 29, 1999
---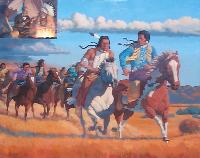 Painting the town... - In Tappenish, Washington, when the mill closed down, and the place was drying up, they brushed up on art. In 1989, they hired several artists to paint a mural on the Western Auto building, then, the town went crazy with murals, with 57 so far. Tourists flock to the small town of 7,500 to see the collection of western history art. "The murals have turned the town from a place you can't wait to get away from, to a place you return to again and again," says Roberta Kerby, a volunteer in the mural office. (Left: "Indian Horse Races" by Ken Carter.)

---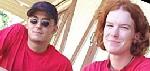 A Coupla' Hotshots - P.J. Tabert and Bethany Hannah are a part of the 20-person crew of forest firefighters out of Mt. Hood National Forest, known as the Zigzag Interagency Hotshot Crew. Fighting forest fire is a big thing out west, and thousands of people have summer careers at this. Want to fight fire in Oregon? Can you carry 45 lbs. 3 miles in 45 minutes, run 1.5 miles in 11:40, do 25 push-ups in a minute, 40 sit-ups in a minute and at least 4 pull-ups, depending on your weight? Well, that's the easy part. You also have to love working with people, and be able to maintain a pleasant demeanor during your 12th day shoveling a fire-line in sweltering heat, living in a tent, eating MRE's and watching the world around you turn to black. Hotshots Web Site


Moving Bridges
FRIDAY AND SATURDAY, JULY 23 & 24, 1999
SAN JUAN ISLANDS, WASHINGTON
When you mention Washington state, some people think of lumber and the spotted owl, some think of coffee and Frazier's dog, but the next time you think of Washington, you might want to think about taking off for the islands!

---

Nerdvana - I couldn't leave the Seattle area without stopping by the Microsoft campus, a sprawling community of new office buildings, where people create and improve this planet's operating system. I couldn't help but notice the obvious; that one thing all the buildings had in common - it could be because of the incredible scenery here, or some kind of corporate statement - is that every building has plenty of windows.

---
True America Tip
PHOTO ALBUMS
The collection of True America CD photo albums is available from the main page. Here are two:


Click on the mountain to view the
True America Pacific Northwest photo album.




Click on the waterfall to view the
True America Alaska photo album.