---
Who the heck put a seven-story wicker basket in this field?
No doubt the folks at Longaberger Basket Company enjoy working inside of a huge picnic basket each day, but aren't they afraid of the GIANT ANTS?

It's so big, it's scary!
---

Date:September 3, 1998
Location: Burgoon, Ohio
Recent Stops:Ada, Ohio and the Wilson football factory
Next Stop: Michigan
Mileage so far: 7,161
Notes: I am really enjoying this beautiful countryside. The ride through West Virginia's mountains was heady and full of stunning vistas. Riding through Ohio's great farmland is more of a steady cruise, with pleasant scenery everywhere. I had a nice ride along Lake Erie's southern shore and a delicious lunch in a shale bed cove only feet away from waves crashing against the shore. Waves, on a lake!

There is beginning to be a chill in the air and that is a refreshing change. School is in session around the country now and that may bring about a different atmosphere. I have spent a few months wandering the country, watching people at play and now I suspect the tone may be more serious, especially here in the north where people are getting ready for winter.
---

# 27. Striking out in Fast-Food
Friday, August 27, 1998, Macedonia, Ohio
Did somebody say STRIKE?
All Bryan Drapp and Jamal Nickens wanted was a little R-E-S-P-E-C-T. All they got was F-I-R-E-D. Do labor unions belong in restaurants? This report from the land of Red Hots and Red Apples.
Posted September 1, 1998

---

# 28. Lacing up for the Big Game
Wednesday, September 2, 1998 -- Ada, Ohio
Making the Super Ball for the Super Bowl. It's about time the real players in this game got some attention!

---
Creekside accommodations
at the Peacock Road Christmas Tree Farm,
in Laingsburg, Michigan.

---

Date: September 9, 1998
Location: Bath, Michigan
Recent Stops: Detroit area
Next Stop: The Upper Peninsula
Mileage so far: 7,498
Notes: Doug and Gayle had an unusual house guest last night, in fact a near stranger, but you couldn't tell by asking them.

I have been overwhelmed by hospitality these past few weeks and could go on and on about how wonderful the people of Ohio and Michigan have been to me. I have slept on the edge of a gorgeous lawn at the Vekas', in the beautiful Highland Nursery near Detroit, in a picturesque hayfield under a full moon, in a quaint cabin on a creek and last night in the home of Doug and Gayle Krieger, of Bath Michigan.

I know I am starting to sound like a broken record with all these thank-you's, and I should have a column just for these. I feel like a foreign exchange student, wandering into people's homes and acting like one of the family. As I stumble through this trip, I am beginning to really understand the meaning of family and the meaning of friendship. I am watching people interact with each other so close and in a way I never would have seen in my bubble in Orlando. More to come on this subject, I am sure.
# 29. Becoming Michigan
Sunday, September 6, 1998, Bath, Michigan
Telling Stories in Color.
Dutch immigrant Gijsbert Van Frankenhuyzen
paints a beautiful picture of Michigan.
Posted September 8, 1998



---
# 30. Working Like a Dog
Tuesday, September 8, 1998, Lainsburg, Michigan
Doesn't this guy know what a nail is? Clyde Risdon makes nearly one hundred dogsleds each year and he still lashes them together. Mush!
Posted September 13, 1998

---

They're so big, it's scary!
Date: September 15, 1998
Location: DeTour Village, Michigan
Recent Stops: Kinross, Michigan
Next Stop: Hermansville, Michigan
Mileage so far: 8,187
Notes: I'm hopping a freighter tonight - will the adventure ever end? Stay tuned for a story on river pilots, locks and whatever else comes up!
Crying for Good Bye
This project, "True America" is more than a search for the common man, but a search for home, for me. I spent fifteen years in Florida and I don't think I had found a home there. I did not develop many friendships which I couldn't live without. Leaving was not hard.
Maybe it was that I lived in a fairly large city, where friends are scattered miles apart, maybe it was that my friends were all married and, understandably, busy with their lives, maybe it was my own stupid, independent nature which would not invite truly close relationships.
This trip is forcing me to depend on people, both for information and hospitality (I sleep in a lot of hayfields and side yards) and I am meeting many wonderful people and I will remember and miss many of them.
But it is my hope, before this event is over, to really miss a few people, and to return to them and their community afterward and find my home.
The last real good bye I remember was in August of '93 as I stood outside a bus terminal in Portland, Maine and watched my summer friend leave for Kennedy Airport. She was returning to England, where I knew I could not live. And the stupid bus wouldn't leave and I kept waving to her and making silly faces and then I realized exactly what I had found that summer and that I was letting it go for good, and for bad, and I started crying.
Since then, I guess I have been crying to find close friends and a community in which I will feel at home. I didn't realize this until this trip showed me what is out there, and I nearly found a place recently. I may find a home during this trip, but I probably won't know it until It's time to say goodbye.
Thanks to Meta Geyer, who has let me stay in her upstairs loft apartment. If you ever plan to tour the U.P., DeTour is a neat, little town, with a ferry out to a beautiful island. The town is celebrating its centennial next year, so come out for the party. Stay at "Lucy's Loft" as she calls it, a cozy suite that will sleep four. Rates are only $55/night and no, she didn't ask me to tell you this.
Hey, watch the tongue! Russ gets a curious peck from one of his Belgian horses at his ranch in Kinross, Michigan.

Thanks to Russ and Kaye, who's last name I was rude enough not to remember. They let me stay on their property and gave me a good tip for Horse Power
# 31. Horse Power
Saturday, September 11, 1998, Raber Township, Michigan
Ed and Bud weigh well over a ton each and they can pull over seven tons of dead weight right across your front lawn. Give Joe Harrison a call the next time you need that ficus tree moved.
Posted September 15, 1998
---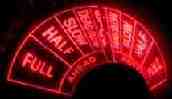 # 32. The Saint Mary's Blues -
Tuesday & Wednesday, September 15 & 16, 1998,
Along the Saint Mary's River between Michigan and Canada
Join a river pilot as he navigates the most challenging waterway in the world - "It's 98% boredom and 2% terror!"
Posted September 20, 1998

---

Date: September 17, 1998
Location: Hermansville, Michigan
Next Stop: Wisconsin
Mileage so far: 8,532
Notes: Does anybody live here anymore?
To get here is simple; Drive north through Michigan until it just can't get any colder, then go north over the bridge

to the Upper Peninsula, where it is even colder, and take a left. Keep going until you can't stand the cold any more, and you're almost there.
My great grandparents were sent here around the turn of this century from Ellis Island, so my grandfather could work in the lumber mills. My grandmother and other relatives were born here, in Hermansville, Michigan. The main industry was a wood flooring mill named IXL (say it: "I X-L") but that was killed in the big war when men were needed for the war effort. The mill office has been donated to the town by a descendant of the mill's owner and it is quite a nice museum with period exhibits in each room of the two story mansion.
Though the town still exists, with new schools and a beautiful church, few families remain to claim their heritage (my family is one which left). Ann, the descendent of Mr. Melrose and whose last name escapes me, has several children and grandchildren, but she is the only one of her bloodline still living there.
---

Date: September 24, 1998
Location: Southern Wisconsin
Recent Stops: Hermansville, Michigan
Next Stop: Chigago
Mileage so far: 9,328


# 33. Got Cheese?
Friday, September 18, 1998, Alpha, Wisconsin
What is Bruce Willis doing making cheese in western Wisconsin? This has been his labor of love for 27 years.
Posted September 23, 1998

Notes: "Flaw in Ice Story Brings Down Titanic"
While in the beautiful city of Chippewa Falls, Wisconsin, I was alerted to a minor gaff in the blockbuster movie Titanic. Here is how the script reads, as Jack is talking Rose out of leaping off the rail of the unsinkable ship:
JACK
Ever been to Wisconsin?

ROSE
(Perplexed) No.

JACK
Well they have some of the coldest winters around, and I grew up there, near Chippewa Falls. Once, when I was a kid me and my father were ice-fishing out on Lake Wissota... ice fishing is where you chop a hole in the...
And then Rose cuts in -
ROSE
I know what ice-fishing is!
But what she should have said, is -
ROSE
You silly boy. Lake Wissota doesn't exist yet! When they finish building the Wissota Dam on the Chippewa River, it will create Lake Wissota, but that won't be until 1915, and it's only 1912! Now, help me off this railing!

# 34. Predicting the Future with Black Magic
Monday, September 21, 1998, Chippewa Falls, Wisconsin
Since the early seventies, this earth has practically rotated around a small lab somewhere between the cranberry fields and dairy farms of Central Wisconsin, where a gang of rebel scientists, under the direction of a brilliant leader, were in search of the TERAFLOP, the grail of computer hotrodders everywhere. Can you do one trillion floating point operations in one second?
Posted September 27, 1998

---

# 35. Driving Through the Years
Wednesday, September 23, 1998, Chippewa Falls, Wisconsin
Paul and Jo Oman live in an old grain silo, collect vintage cars and preserve them for future generations. "We're just caretakers, preserving these cars for other people."
Posted September 30, 1998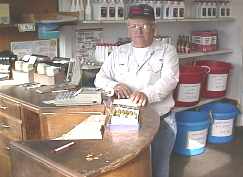 "Fill it up - and two pounds of cracked sunflower, please!"
Elmer Zillmer will fill your tank and your bird feeder for you. The Cyrex station, in the heart of downtown Augusta, Wisconsin, has been selling only gas, oil and birdseed for over a decade, and customers drive off with between 14,000 and 20,000 pounds of birdseed each year!


Date: September 28, 1998
Location: Near Chicago, Illinois
Recent Stops: Wisconsin
Next Stop: Indiana, for a visit with "an old friend."
Mileage so far: 9,700
Notes: "Mark On Directions"
I hate getting directions. I do it every day and I would just rather eat dirt. I am convinced that you can pinpoint a person's character by his ability to give a traveler directions. One of the questions on college board exams should be; "how do I get to the library from here?" I have gotten so upset by this nation's lack of ability to help me when I am hopelessly lost, that I have lowered myself to the cynical and spiteful level to where I am stereotyping people, just for fun, mind you.
The Novelist: They like to impress you with their incredible memory for detail. Here is what they say: "You just go up this road a bit and go past the curve and follow the road until you see an old maple tree and a stop sign then go past the barn and the school and you'll pass a potato field on your left go past them and follow the road until you get to a light no wait it's not potato its corn sorry but go ahead and take a left there go until you get to an intersection and then a curve in the road where my brother smacked his truck into a tree and you'll be almost there when you see the bank on your left and a store on your right you know you're there."

And I say; "OK, so I take a left at the light, go for a while and it will be on my right."

And they say; "Uh, yup. That's right."

The Lost Leader: I can always tell I'm in trouble when I ask directions and the guy takes a good, long pause before answering. I have calculated that every second of pause costs me ten minutes of driving up and down dead-end roads. And it amazes me how many people don't know the area in which they work. I get so many "I don't live here's," I'm beginning to wonder where people do live. Now, commuting is fine, but for a cashier or clerk's job?

The Exaggerator: Just last week, someone told me to "go straight down this road three or four miles and it will be on your left." I got on my bike, went down the road and on the very next block was the building I was looking for.

The Dramatist: They talk with their hands, they think with their finger in their mouth, and after a flailing of arms that would fan a small fire, they have made absolutely no sense.

Tag Teaming: After someone eloquently and fairly confidently shows me, in sixteen steps, how to get somewhere, his friend will surely pipe in; "why don't you send him on Highway Six? And this guy will start all over with his favorite route. By the time a third person jumps in the fray, I actually begin to visibly weep. I was in a bar last week for half an hour while three people argued about the best way to get to a place that was only a few miles away.
Speaking of directions, I have this really nice, expensive compass that clips right onto my handlebars. It works just fine... as long as I'm going west. So, I have how many? Thirty seven states left to go? Whew!

Thanks to the Omams and the Van Bergens, who loaned me acreage for my camper.
---
# 36. Harvest of the Heart
Monday, September 27, 1998, Hebron, Illinois
Feeding the world at 3 mph. Mike Van Bergen carries on his family tradition of farming, a heritage that is steadily losing ground to development.
Posted October 4, 1998


Date: September 30, 1998
Location: South Bend, Indiana
Next Stop: Southern Indiana
Mileage so far: 10,002
Notes: "I've been in Indiana a whole day now, and I haven't seen one darned Indian!
# 37. Lead us not into Temptation
MONDAY, OCTOBER 5, 1998
GOSHEN, INDIANA
Read on, with comfort in the knowledge that we don't all have to ride in buggies and wear black to go to Heaven. Find the secret right here.

---
True America Tip
PHOTO ALBUM: "Bob, the Bike"
The collection of True America CD photo albums is available from the main page. Here is one:


Click on the bike to view the
True America "Bob's Days" photo album,
a memoir of iron and wheels.