Greetings from Colorado!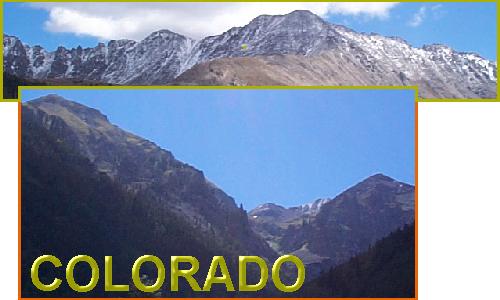 The Rocky Mountains, shown atop Fremont pass (above) and east of Telluride.
But, could I live there? - This place makes me want to forgive Old Man Winter for all his biting cold, blinding snowstorms, tons of snow to shovel and unforgiving elements.


The Colorado photo album.
ARTICLES
---

The Air Way
WEDNESDAY, SEPTEMBER 22, 1999
SWEDISH MEDICAL CENTER,
DENVER, COLORADO
Air is life, and this is magic.



Tall in the Saddle
TUESDAY, SEPTEMBER 14, 1999, LONGMONT, COLORADO
For some people, climbing onto a horse can be the greatest step of their lives, and she is there to help them.



Riding the Storm
FRIDAY, SEPTEMBER 10, 1999
WORLD ARENA, COLORADO SPRINGS, COLORADO
Julie Goskowicz is on the U.S. Olympic Speed Skating Team, and she knows that when you become a part of the storm, it can be a helluva ride.