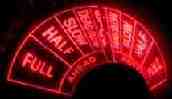 The Saint Mary's Blues -
Tuesday & Wednesday, September 15 & 16, 1998,
Along the Saint Mary's River between Michigan and Canada
Join a river pilot as he navigates the most challenging waterway in the world - "It's 98% boredom and 2% terror!"

Becoming Michigan
Sunday, September 6, 1998, Bath, Michigan
Telling Stories in Color.
Dutch immigrant Gijsbert Van Frankenhuyzen
paints a beautiful picture of Michigan.

Horse Power
Saturday, September 11, 1998, Raber Township, Michigan
Ed and Bud weigh well over a ton each and they can pull over seven tons of dead weight right across your front lawn. Give Joe Harrison a call the next time you need that ficus tree moved.

Working Like a Dog
Tuesday, September 8, 1998, Lainsburg, Michigan
Doesn't this guy know what a nail is? Clyde Risdon makes nearly one hundred dogsleds each year and he still lashes them together. Mush!
Posted September 13, 1998