---

Date: May 6, 1999
Location: Boone, North Carolina
Recent Stops: Wheaton, Charleston and Baker, West Virginia
Next Stop: Kentucky
Mileage so far: 26,759

Notes: - Kids, don't try this at home - I remember when Orlando, Florida passed a helmet law for children on bicycles and I thought "man, what we used to do as kids!" And I longed for the reckless, carefree, non-litigant, good old days. I saw these kids playing, in Charleston, West Virginia, and asked if I could take a photo. Well, they all wanted to be in the shot, even if it meant lying between the cinderblock-and-plywood ramps. The kid on the bike jumped clear over the little girl and boy, and halfway out of my frame. I didn't ask him to do it again, because I realized what a dumb move this was, at least it is these days.

---
Perfect Circle - I received an email weeks ago, from Danelle Joyce, of the pocketknife company, Spyderco. She offered to send me one of their products, and though I usually decline such offers, she made it clear that they expected nothing in return, including this item. Well, I love pocketknives, and I could not resist her offer. She sent me one of their "Tim Wegner, Jr." models. Like the motorcycle I ride, this knife is simple, strong and very functional. Put your thumb in the blade's perfectly round hole and open or close the knife with one hand, your thumb spinning on the hole. Simple, smooth and solid; the circle - the very shape of our Earth - is the oldest symbol of strength known to man.

Big Water
SATURDAY, MAY 1, 1999
NEW RIVER, WEST VIRGINIA
Come find out who wins the battle between an intrepid journalist and a huge, muther rock.
Posted May 6, 1999
I started the month off right, with a beautiful campfire, when my rafting buddies (See Big Water) invited me to share their campsite, fire and beers after a great rafting trip. Cheers to the John Glenn High School, class of 1980.

---

A Coal Miner's Son
TUESDAY, MAY 4, 1999,
1 MILE INTO COOK MOUNTAIN,
WHARTON, WEST VIRGINIA
West Virginia is coal country, and our country depends on coal.
Posted May 13, 1999
---

Back to School - The school in Paint Lick, Kentucky was replaced a few years ago, and Raymond and Milady Mixon bought the old school at auction. They use the beautiful, 12-classroom building with gymnasium for an antique mall, but might let the whole place go for $150,000, Raymond told me. "This old building just needs some young blood," he said. Might make a nice B & B, or apartments, I thought. Raymond Mixon is a Kentucky Colonel, a civilian title assigned by the Governor's office, and he has the certificate on his wall to show for it. "There's not much to it," he says. "Just get nominated..." You actually need to have some merit to earn this honor, not that you have to start a nationwide fried chicken franchise, or anything.

To these folks in the rural town of Pineville, Kentucky, this seems to be just another baptism, as they tote their cameras and purses down to the river, but to one kid, it's a very special day, and it is quite interesting for me, also.

Work Study
MONDAY, MAY 10, 1999, BEREA, KENTUCKY
Every Berea College student receives a full tuition scholarship, and they must work to help pay their housing and other expenses - parents love this place!
Posted May 16, 1999
---

Flower Child - Saw this while looking out the window of the Berea Public Library. Do you remember the first time you picked flowers for your mother?
---
Family Plot - Stopped at the Reynolds' house, near Big Hill, Kentucky, looking for a place to camp, and Mr. Reynolds said "sure" and waved toward the side yard, next to a couple of grave markers. "We were just sitting around one day," he said, "and decided we'd all like to be buried right here." Soon after, Grandma took them up on it, and sure enough, they parked her right where the sun sets. I had never heard of such a thing - in Maine, you can only bury someone in a legal cemetery. "We didn't need no permits or anything," he said. Another family member, named Blaire, joined Grandma recently, and it's pretty convenient for the family to visit and keep the "new home" looking nice. "I can sit in my bedroom and look out and see 'em right here," Reynolds said. Well, it was a quiet night, and I slept pretty well, though not as well as Grandma and Blaire.


A Friend of Ours
TUESDAY, MAY 11, 1999, PAINT LICK, KENTUCKY
"Everybody I encounter, I try and help them - it wouldn't be bad if everyone were like that, would it?"
Posted May 20, 1999
---
Wanna race? - I asked Jimmy Johnson if I could camp near his tobacco barn, near Gravel Switch, Kentucky, but the barn wasn't his. "Come with me, I'll show you a place," he said. I followed him across a field and to this creek, and watched him cross it. I looked at the huge tires on his tractor and they were barely in the water, and I figured that ol' Bob, my trusty motorcycle, wouldn't get flooded out, and I was right. I headed across that creek on a very sturdy, gravel bottom, and when I got to the extra sturdy, extra slippery, solid rock bottom, Bob just slid around and fell over, right in the water. Jimmy helped me get the bike back up and back to dry land, and I sure felt like a moron. I slept pretty well that night, with my camper sitting right over the water, and my ego on the mend.

The Old Store
WEDNESDAY, MAY 12, 1999,
GRAVEL SWITCH, KENTUCKY
It is the oldest, family run, corner market in the country, and it's turning the corner to a new generation.
Posted May 23, 1999


---

I stopped into the International Towing and Recovery Museum while in Chattanooga, to view the history of getting people out of the sorry messes automobiles have gotten us into. I had hoped to write a companion article about this museum with one on a unique junkyard near Memphis, but the subject there actually wanted me to pay for the interview. So, here is a a quick view of the unique, four year old museum, where I learned the difference between a tow truck, which historically, would just tow cars, and a wrecker, which could pull cars out of ditches. (A great trivia question for your next date.)

I tried to stuff my frame into what must be the world's smallest tow truck, made in 1989 out of a Japanese, 2-cylinder truck. They actually towed a Ford Escort with this thing. The center vehicle, a 1929 Packard, is actually a tow truck. On the right is a part of the museum's toy tow truck collection, owned by Peter Fuerst, who owns about 200 of them.
---
Innocence in a Small Town - Hiding out from a hailstorm, I'm at the public library in Spencer, Tennessee, a pretty, small town, where the state DOT comes by each month and sets up office for a day, and the S & M Family restaurant serves a popular, $5.25 dinner buffet on Thursday nights. I met some wonderful people in Memphis. Two journalists from the Memphis Appeal. They had the empathy to take a vagabond journalist to lunch and trade some secrets with me. Tom Bailey took me to the Arcade Restaurant, and we sat in Elvis Presley's booth, just a block from the most notorious motel balcony in civil rights history, and we discussed life in this city in the center of so many things. Bill Thomas took me to an outdoor joint, where I had the barbecue, and he politely declined my offer for an editorship, but gave me a good tip on surviving this trip and keeping my sanity, and it was a true pleasure and an honor sharing some time with these guys.
---

Date: May 18, 1999
Location: Memphis, Tennessee
Recent Stops: Moscow, Tennessee
Next Stop:
Mileage so far: 26,759
More of the same - I love springtime, especially after the cold, wet winter. I saw this field near some small town in southwestern Tennessee, just like so many small towns in Appalachia this time of year - I seem to be spending more time on the side of the road, my belly in a field of buttercups, than I do in the saddle, but that's the way it should be, I believe.

---
I met up with my brother, Doug, in Memphis, and we strolled down Beale Street, to get a feel for the heart of this city, which these days in most places is the tourist sector. My favorite place was a small park, away from the T-shirt shops. Here, on a Sunday afternoon, you can enjoy some rich music, by people who wouldn't know a record contract if they signed one, but who know how to sing. We happened upon an informal concert by the choir from the local Pentecostal Church, who had come down to sing after services, because that's just what they like to do on a sunny Sunday afternoon.
---

Waking in Memphis
MONDAY, JANUARY 26, 1999
5123 NAVY ROAD, MILLINGTON, TENNESSEE
Did you know my father? I think I do.
Posted January 29, 1999

---
The Legend Lives - We caught these two performers in one of the bars, entertaining a small, but rowdy Sunday afternoon crowd.

It was just the piano player and a singer, and a couple of drunks up front, buying her shots and trying to get her too sloshed to sing, which I didn't think was possible. She could really belt out the blues, and she had a touch for Janis Joplin. One tourist, feeling that she had just discovered the Home Of The Blues, and that she had found herself a Janis incarnate, requested - no, begged - her to sing anything by the legend. The woman put a wad of bills on the piano and pulled out her cardboard camera, and she waited. The singer had apparently spent too many years in front of small, rowdy crowds, being compared to legends, and being told by drunks; "Man, you shud be a perfeshnal!" and she resisted the urge to audition for this tourist, and when she had put it off as long as she could, she finally pulled out a Janis number - a real screamer - and the woman beamed and took some photos and you knew that the singer could wear this tune just like Janis, but somehow you knew she wouldn't and you were right, and she just trashed it.
---
Elvis has left his mark... Walked by Graceland, dodging the tour buses, to see where the King of rock and roll called his castle. We paced along the long, brick wall, which has been terribly disgraced by either malicious punks or adoring fans. I saw one of these people scribbling something on a lamp post across E.P. Blvd. She looked at her work with tremendous pride, put her marker in her purse and then took a photo to prove to her friends what an adoring punk she was. Later, we walked around the Lorraine Motel, where another legend had stayed, this one named King. He had to stay at this motel, because he was black, and somebody shot him, I think for the same reason. None of the visitors here have felt compelled to deface the property with magic markers or paint - just a few flowers and wreaths - it seems to be a bit more civil here.
---

One Man's Treasure
MONDAY, MAY 24, 1999, HUMBOLT, TENNESSEE
He deals in life's great bounty, and is letting it all go, for his greatest treasure of all.
Posted May 30, 1999
On Leaving Memphis - Leaving Memphis today was a little rougher than ever. My brother, Doug, and I spent a week there - he on business and me on, well, this business - and we toured our old neighborhood, our schools and the places we used to go as 14 year-old boys. We opened a 25 year old wound and let it breathe a little until we pretty much felt that it had healed. I enjoyed being with my brother tremendously and now am regretting the years and years I have spent away from any family. As I tour this country, I see how important family is to a person, especially adults, and I am regretting not building one of my own. Watching my brother take off for the airport, for his return flight to Italy, I stood in the hotel parking lot and waved goodbye, and was surprised at how hard that goodbye was, and a housekeeper walked past and she watched as some big ol' motorcycle guy, with leather jacket and boots, stood next to his big, mean, motorcycle, and he actually started crying. It must have been quite a sight.
---


Here's a view of the Missouri River, from Glasgow, Missouri. Down here, the rivers are huge, carrying millions of gallons of water, and they are brown - not dirty brown, mind you, but muddy brown, carrying tons and tons of soil, and you could sit for hours, watching the river run, wondering from where all that soil has come, and to where it is all going.

---

Never thought canoeing would be so popular in Missouri, but along the Huzzah Valley, there are outfitters everywhere, like this one, named after the valley. It is exciting, watching things like this open up for the summer.

---
The hills of northern Missouri are filled with grain this time of year, tall enough to coat the horizon with mounds of deep green, flowing waves of grain, and when the wind blows across the hills, it shines and undulates like heavy fur, and makes the hills look like great bears in motion, and you just want to go over and pet them.
---
Cheeseburger in Paradise - I stop to check my map often - very often. Since I ride mostly back roads, I always have to make sure I am still on course. Many times, when I am parked alongside the road, looking at my map, an eager local will stop and offer help, usually when I don't need it. Worse, they often ask, with vigor; "are ya' lost?" which I am usually not, and I admit, I have gotten a little impatient with this - which is my very own problem, and I am trying to deal with it, I really am. But most of the time, they will just ask; "where ya heading?" And I have finally figured out the perfect answer.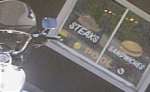 So, when Leon McDowell stopped next to me as I was on Route 11, heading into Mendon, Missouri, I answered in a deadpan voice; "Anchorage."
Well, he just loved this. "C'mon with me, I'll buy you a hamburger!" he said, thinking he had just met a weary traveler who had seen half the country and could use a good sandwich. I declined his offer, and went back to my map. Shortly, I passed Chief's Restaurant and saw his car out front, and about a mile later, I realized that not only was I passing up a good meal, but I was passing up a classic, small town experience, and I was passing up a new friend. My bullheaded, prideful, professional side gave into my adventurous side and I turned that bike around and went back to the restaurant. It was a classic, family run place, with most of the family sitting at one of the booths, eating and talking with their friends. McDowell was a classic farmer, who had owned a motorcycle, and had toured quite a lot. My new friend bought me one of the best hamburgers I've had all year.
---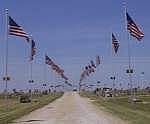 The Goodbye Guys - Early this year, while in Arkansas, Ronnie Huey, a retired county sheriff, took me for a ride through Stuttgart, and gave me a tour of their cemetery. "You can tell how good a town is by their cemetery," he said. "If they don't take care of their dead people, how can they take care of their living ones?" Riding through northern Iowa, I caught this scene at the Pleasant Hill Cemetery, near Cincinatti. There must have been a hundred flags! I pulled in and, the place was very well kept - Sheriff Huey would love this town.
There was a burial pending, and I stopped to talk with a duo who's career is to take people on their final ride - six feet down. Jim Hull (on right) has been at this for four years, and Loren McIntosh (left, in tie) is in his first season. "It's a good job," Hull says. "You don't have to worry about losing it." They don't dig the hole - heavy equipment is used for that - but they have quite a job; they have to set up a tent, with carpeting, chairs with covers, and a vault, which can weigh up to 3,000 pounds, they say, and the contraption they use to lower it. All this, sometimes twice in a day. Then they change into more formal clothing and wait for the cars. They share tender moments with complete strangers, and when the crying is done, they pull out the cranks, lower the box, tear down the tent, pack up the truck and head out to do it again. "There's something different every day," says Hull.


Hard Rocker
FRIDAY, MAY 28, 1999, MARENGO, IOWA
His unrefined demeanor is in contrast to the beautiful furniture he makes, and he likes it that way.
Posted June 5, 1999

---

A Book and its Cover, Part II - Looking for a camping spot in eastern Iowa tonight, I stopped at a farm near McGregor. The yard was nicely trimmed, and I naively believe that axe murderers will not mow their lawn. I saw a man working in the garden, and I approached him with my card in hand. Now, this guy was about the meanest looking dude whose yard I have ever camped in. He had an upper body like a wrestler, a belly like a bar brawler and a scowl on his face like he was ready to start snapping cue sticks. He was a bit shorter than me and I imagined that there was a slim chance in Hell that I could have taken him, if he just wasn't holding that heavy garden rake...
Well, he scowled for a minute, perhaps considering where on the farm he had room to bury one more body, and I scanned the property for an escape route - I suggested that I "could just be moseying on" when he pointed over to the corner of the yard, and said it would be OK if I stayed. Sure, I thought, but would it be OK for me to wish to live through the night? I set up my camper and he came by and invited me for dinner. As usual, I demurred, but he insisted, and I ended up having delicious stuffed bell peppers and spinach, a meal he prepared handily from a recipe which he got from - I am not kidding you, here - The Joy of Cooking cookbook. Tim Mason and his wife Sarah are the nicest couple, and a real pleasure to have met, and they have a beautiful dog named Casey, and he is not the least bit the axe murderer type.
I Love A Parade
MONDAY, MAY 31, 1999
MAIN STREET, MCGREGOR, IOWA
Posted June 12, 1999
---

Date: May 31, 1999
Location: Fon Du Lac, Minnesota
Recent Stops: McGregor, Cedar Rapids, Amana, Iowa.
Next Stop: Minnesota
Mileage so far: 28,563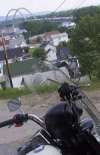 Mark's Motor Club - Wandering around Marquette, Iowa I rode up this narrow, steep street - which is my favorite type of street - and followed an SUV to the top, a cramped dead-end. I realized that I was in someone's driveway and there was little room to turn around. A woman climbed out of the SUV, and she was trembling. "Oh my gosh, what have I done?" she said. "How do I get back down?" We were a hundred feet or so above the small town, with a beautiful view of the town and the Mississippi river, and no guardrail to keep us from rolling off the edge and tumbling down the bluff. "I don't know what to do! Will you please turn my car around?" I tucked my motorcycle and trailer to one side and took the wheel of her Explorer, not mentioning that I had not driven a car in months. When I turned the thing around, she asked me to drive her truck back down the steep hill, and she walked down behind me. I hope she's all right.
---