Field of Dreams
Friday, June 12, 1998 -- Plattsburg, New York
"If you had to lose most of your senses and could only have one, would you not choose to keep your sense of beauty? If you could only keep one ability, would you not keep your ability to dream?"

Sixty Seconds of Fame
Thursday, August 6, 1998, One Times Square, New York City
Only 146 days to go! 300 million people will watch the ball drop in Times Square this December, and only you will know how it is done! Mark gives you a backstage view of the most famous orb on this great orb.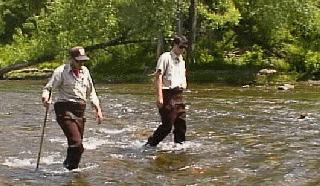 Sea Lamprey Hit-Men
Thursday, June 11, 1998 -- -
What are these two men doing? Shouldn't they be at work?
Wouldn't you like a job where your office is thousands of acres of rivers and streams around the largest lake in the U.S.? Read about these two G-men, on the trail of aquatic parasites.


Swords into Picture Frames
June 13, 1998 -- Willsboro, New York
Would you want this in your backyard?
The empty, two-hundred foot deep, underground silo which once housed this nuclear-armed missile might make a nice swimming pool, but why did our government spend billions of dollars making quonset huts for a framing factory?