&nbsp
---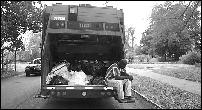 This is one of those shots you're bound to miss unless you keep your camera in a holster on your hip. Here is what I saw one morning while in traffic, in busy Natchitoches, Louisiana.
---
A "Natchitoches-ful" of Christmas Spirit - I have been wandering around this country for a year and a half, but I usually miss big events. Lyn Dunsavage, of the Malekoff News, suggested that I pass through Natchitoches, Louisiana (pronounced "Nack-a-dish.")

These guys party! From up there, even the short guys could see the parade and fire-works. "Where do you pee?" I shouted up to a girl. "Over there!" She pointed to a Port-a-let on the street, and I figured either she didn't get my joke, or she has really, really good aim.

She is a wonderful woman, even if she can no longer bake a cheesecake (legally) and I took her word that the town, where they filmed "Steel Magnolias" would be worth a visit. I arrived just as they were starting up their big Christmas festival. I have wanted to see a lighted boat parade for years, and I saw my first one here (three boats...) Another parade, down Front Street, was amusing - about the largest, small-town parade I've ever seen - and when the "Tabasco Kids" a troupe from a New Iberia dance school, marched by, I was reminded to insert a little disclosure to my readers: (Just so you'll know that I write these articles for you, and not to score freebies.) I wrote an article in January about a worker in the Avery Island factory, "The Spice of Life"


When your party bus cost $1 million, of course you get a tailgate TV in the luggage bay. For Y2K, this guy can just stay in his driveway.

and last month, the McIlhenny Company sent me a huge gift basket, with 17 Tabasco items. I gave them to Mom, because she cooks a lot more, and a lot better, than I do.

Back to the parade. Natchitoches is a beautiful town, with a brick-paved street on a pretty canal, and they really do it up for Christmas, with thousands of lights.


To secure spots for the Saturday fireworks, people stop by all week and lay tarps on the grass with their names on them, and I can just imagine how long that would last in big cities. After the parade, I had to skip the fireworks (I didn't have a spot) to ride to Houma. Little did I know, I was parked in the "official festival zone" and a certain bully cop tried to make me stay there for four more hours. I was less than 100 feet from the barricade, but he stood on principle, a word he might even know how to spell. I walked to the police station and spoke at great length with the chief of police, Captain Silby, who also refused to let me go free, afraid I would run someone over. I finally resolved the situation by pushing my bike and trailer the meager distance. All in all, Natchitoches is a beautiful place, and I thank Lyn Dunsavage for the tip. She can hardly even say "cheese cake" these days, without breaching her non-compete agreement from the sale of her "New York, Texas Cheese Cake Company" but she knows a nice town when she sees one.

It may not be true that only in Louisiana can you buy a real squirrel skinner for your kitchen, but it might be true that only in Louisiana will housewives line up to buy them.
Suck head, eat tail - Ken Marcel shows us how not to eat a crawfish.
---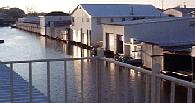 Down on the Bayou - Ken Marcel emailed me this summer, and mentioned that he and his "beautiful cajun girl" owned a fish camp. Little did he know that I file such notes, and as I approached Louisiana, I wrote back, practically inviting myself to set up my camper there.
He didn't like that idea, and he insisted that I be a guest in his cabin. But since I couldn't take my bike (boats only) he talked to his friend, Nickey Pereira. It says a lot about Cajun hospitality and friendship, when someone can let a complete stranger use his camp merely because a friend asks him to, and that's just what Nickey did. I have spent this past week in a beautiful boathouse on a bayou. From my desk,
I can hear fish jumping, I catch georgeous sunsets every night and I even have my own bathroom and phone line! Ken and Kim have treated me to several delicious, Cajun meals, with heaps of crawfish, catfish, crab, shrimp and oyster, and they insist on my feeling welcome. They invited me to a party where I met Ken's friends and their beautiful wives, and I felt more at home than I have in a long time. Thanks guys!

---

The Cajun Life - To some, the bayous of southern Louisiana look like a giant junkyard, but not to those of us who envy the valiance of struggle and the patina of tradition. Weathered shacks and rusty boats sit alongside the rising sugarcane, ready to serve another day, and they testify to the solemn independence of the Cajun people. Life has grit down here, but it is sweetened by an unusually strong spirit. Start your day with every stranger as a friend, and go from there. From distinct dialects to delicious foods, Cajun life will pull you in and embrace you.


It may take getting used to, but life on the bayou is gentle - "easy" if you will. For a quick lesson in southern Cajun, first, pronounce "bayou" (just about any body of fresh water that moves, and moves slowly) with a short "a" as in "bye-ah" then say; "Come-on" emphasizing "come" with a rise in pitch, and flip your "s" and "k" around when you "aks" for something. If you want your seafood boiled, ask for it "bawled" as in; "If it don't crawl, we don't boil!" Don't feel uncomfortable carrying a can of Schlitz around the bait shop at 8 a.m. and don't be afraid to hear the word "nigger" - traditions just have deeper roots in some places. Enjoy good traditions like Mardi Gras, and Christmas Eve bonfires and parades - hundreds of parades. No doubt that Louisianans work hard, but they play even harder, and I can't believe that I won't be here for New Year's Eve.

---

Date: December 18, 1999
Location: Bayou Dularge, Louisiana
Recent Stops: Houma, Louisiana and Fair Play & Palestine, Texas
Next Stop: Alabama
Mileage so far: 49,548

Help on the Road, Part XLMCXII - My left saddlebag rail broke, and I was ready to fix it with duct tape and baling wire, when Jill Theriot emailed me. She rents tools for offshore oil wells, so I figured she knew a welder or two. I called and told her of my predicament, and she said; "call me back in two minutes." That's all it took to line me up with Ken, of Quality Tool Service, in Houma, Louisiana. His welder, Kerry Suire, was fixing some kind of enormous drill bit, the size of a fire hydrant, but he put it aside to braze my rail for me. "It's not hard to find a welder around here," Suire said. "With all the oil rigs, everything's made of iron here." Thanks, Jill!"
---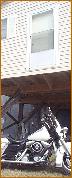 From the "Go Figure" Dept. - Life is unusual here, in a marina community in rural, southern Louisiana - I am awakened each morning by the distant ordnance of an army of duck hunters, people bury their dead above ground and they practically live to fish or eat fish. On the left, is a second-story camp with no stairs (keeps the trick-or-treaters away.) That 5-inch thick rope across the road is someone's idea of a speed bump, and it works. On the right, some people will do anything to keep their treasured trailer home.
---
Down on the Bayou, Part II - Carl Authement has been drawing bridges for 10 years. Here, he replaces a light bulb on the Theriot bridge, one of 10 drawbridges in Terrebonne Parish. "It's a challenge," he says of the job. "We're always trying to make them work better." This is an unmanned drawbridge, so if you want it raised, just call the dispatcher, and Authement will drive out here and raise it for you. But you can't just call to have it lowered. "Some people can be so impatient, that it's funny," he says. "We'll be working on a bridge, and even though there's another one just down the bayou, they want to use this bridge."

---

The Brightest Moon - Let me tell you, tonight has great potential to really suck. It's going to be bitter cold - below freezing - and I don't yet have a place to camp. I lost time trying to snag a job interview in Opelika, and that ball of fire is falling fast, along with my hopes of any comfort this evening. Not only do I need a camp site, but I need to ask for electricity for my heater. Without heat tonight, I'll be like a frozen side of beef. The sun is setting as I roll into Camp Hill, Alabama and I scout for side yards. I knock on a few doors, with no luck at all. The sun disappears, the temperature drops, and my fingers go numb. I find a good side yard, pull up and ring the doorbell. Trying to convince someone that I am harmless is always a greater challenge after dark, and tonight I also have to ask for electricity. An elderly woman, who reminds me of Grace, answers the door. She says she doesn't own the lot in question, so I thank her anyway and leave. She had suggested I stay at a church, but during my 18 months on the road, I have only stayed at a few churches, for three reasons: I'm not very religious and I feel I would just be using them; there are greater charities for churches to help, other than "Mark's Great Adventure;" and third, churches are fairly public places, and I am too vulnerable while sleeping in public places.
Camp Hill is a small town, with an economy that has gone to bust. All that remains are homes and at least four beautiful churches - the main street looks like a bombed-out shell of commerce, with more plywood than glass and a genuinely abandoned atmosphere. It is getting really cold now, and as I pass the Camp Hill Baptist Church, I see a light on, and I stop in. A couple is preparing for an evening Bible study, and they tell me that the minister will arrive any minute. Half an hour later, the place is crawling with kids, but no minister. While the children wait for class, they pepper me with questions about my motorcycle, my camera, and my travels - they're really curious about this mysterious stranger who rolled into their small town. A police car drives by and stops for several minutes. The minister is sick and won't be here tonight, but several ladies take my case with vigor, and they rally to find me a place to camp - they suggest the local volunteer fire station, and one lady (the daughter of the woman who's doorstep I was on earlier) calls her husband to come show me the way there. I wait some more, and try not to feel uncomfortable in this humbling situation. I sit quietly in a corner as they begin their class, and I close my eyes as they pray for me.
Wade arrives and takes me behind the volunteer fire station. I set up my camper, plug in my heater and get to work - two hours after my search began, I am finally warm and relatively safe. At eleven p.m., I step outside and watch the brightest and prettiest moon in six decades rise over central Alabama.
---


Harmony on Hosanna Circle
Posted January 1, 2000
CHRISTMAS DAY, 1999, AMERICUS, GEORGIA
Celebrate our final article of "True America" with the Pooles, as they celebrate their first Christmas in their new home.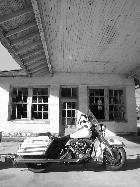 Goodbye America - A am nostalgic for a time I never knew; the first half of this century, when America was made by hand. I love to see old buildings, like this gas station on Route 19, in Ellaville, Georgia, made of wood and bricks and steel. I love to see them weathered and used, and through it all, standing strong. If mortar and nails could feel any pride, they surely should, for holding together such an honorable structure. This is not a historical landmark - no one famous died here and no treaties were signed under its canopy - but it is a part of our history. Many buildings today seem to have been built by machines, and seem to be occupied by machines. Visit places like this and you are on hallowed ground. I can only hope this building will be adopted by a person and given a new life, but I fear it will be demolished by a machine and replaced with a 7-11.

---

It's a wrap - 567 days ago, I sat on a curb at a gas station between the Canadian border and Plattsburgh, New York, and I had a knot in my stomach. I had just sold nearly everything I owned, and bought a motorcycle, camper, camera and computer. The past 35 days were a blur, as I lined up sponsors and closed down my life, reducing it to a few heirlooms and a handful of treasures squeezed into safe deposit box #508. I had just spent five hectic weeks throwing my life away, and trading it for a new one. I had just lived through dozens of precious moments, saying goodbye to friends and telling them about an incredible adventure I was diving into. I built this web site, and promised visitors a good read. I promised them I would write interesting articles for them, about interesting people all around this great country. I realized right then, that few people I had talked with could really grasp the magnitude of what I was about to do, and those who could, likely didn't believe I could actually pull it off. I had talked and talked about these amazing things I was about to do, and right then, right there, in upstate New York, it was time to shut up and do it. This was a "be careful what you wish for" moment and part of me was wishing I could turn back time. Travelers stopped for gas on their way to and from the border, and I kept my line out, hoping to hook a story. I talked to people and read newspapers, looking for a lead, and was about to give up when a pickup truck pulled up to the pumps. Two men in U.S. Fish and Wildlife clothes got out. Adam Zerrenner and Wayne Bouffard had no idea who I was, or that they would become the subjects of the first of 126 articles about true Americans. That experience, of finding a wonderful story in a simple place, reassured me that good stories were indeed everywhere - they just needed to be found and told. I wrote that piece, then took off on my iron horse, leaving my old life behind, and a bright, new world ahead.
---
The rockets' red glare over Lakeland, Florida signalled the end of this amazing Odyssey of mine, as I watched several tons of fireworks explode over Lake Mirror. I met thousands of people last night, and I told my story hundreds of times. I had a beautiful display (thanks to David Peters, Bill Fleming and Michael Goldman) with my camper, my motorcycle, and a large, American flag, from the office of Congressman Charles T. Canady. The day before, I had accepted a temporary post as a technology reporter for the Orlando Business Journal. Yes, I spent 19 months traveling this country and searching for a new home, and it looks like I may have found it right back here. I turned a lot of heads last night and I shook a lot of hands, as I have done for the past 51,795 miles. As the gunpowder ignited before us and we toasted a new millennium, the crowd gave enthusiastic applause, and I could hear the cheering of America.


---
True America Tip
PHOTO ALBUM: Sunsets
The collection of True America CD photo albums is available from the main page. Here is one:

Click on the sunset to view the
True America Sunset photo album.