Date: November 6, 1999
Location: San Gabrial, Texas
Recent Stops: Mount Calm, Trinidad and Athens, Texas
Next Stop: Houston
Mileage so far: 48,256

Out of Waco - I stood on the edge of the swimming pool, the only remaining symbol of one of the most tragic and confounding events of this nation's last decade. The swimming pool was what you first noticed in the aerial shots during the 1993 siege of the Branch Davidian compound. Another symbol was the American flag standing out straight and taking a beating in the powerful, Texas wind. We watched as strong wills dueled for weeks and weeks, as people held faith in the ideals and commands of those whom they respected. We watched as people made terrible mistakes and as evil took a volley against innocence.
Davidians, including octogenarian Edna Doyle, are building a 215-seat church on the site. Doyle lost her granddaughter, Shari Elayna Doyle, in the infernal climax to the standoff, and she works on the compound and in the group's museum "to tell our side of the story," she says. Walking around the compound, you see two stone memorials; one for the two government agents killed in the initial raid, and one for the 82 people who died 50 days later. You can read from plaques, which describe where the front door was, where the vault was, etc. and, from Davidians' perspectives, events that occured at these places. Nothing really happened at the swimming pool, which is still nearly empty, but from it, looking through the framework of the new church, you can see a small American flag standing out straight and taking a beating in the powerful, Texas wind.
From the swimming pool, now in the center of a rugged field, you can imagine the idyllic life led by people here. They came for love, acceptance and purpose, and they found all that in a man whom they grew to trust. From the swimming pool, you can see the roadway on which the agents arrived. They came to protect their country against the evil which lay here, an evil described for them by their superiors; people whom they had grown to trust. In the ensuing years of shouting and deception, you can hardly see the whole truth. What else you can't see is the long-term effect which all this has had in inspiring other evil, such as that which held fire 300 miles north of here, in Oklahoma City. We have learned that when humans face evil, they make mistakes, and that there is danger in too much trust. The price we paid for these mistakes was the loss of innocent children, who had nothing but trust, and who made no mistakes at all.
I rode out of Waco, on Farm-to-Market Road 2491, bearing down the two-lane at a smooth sixty, straight as a gunshot, and on this bright, November afternoon, I could still feel the wind on my back.

---
OK, where is Mark? Trying to figure out where I am these days is getting pretty confusing, even for myself, what with the conflicting datelines and all - the latest article I wrote was researched about six weeks ago, but posted only recently. Well, rest assured, I am somewhere, but you can blame this mess on the weather. Since the final states in this tour (excluding Hawaii, which just might get excluded) are in the north, I researched articles up there while the snow wasn't too deep, and I raced down here to crank them out once a week through the end of the year. The "Update on" stamp at the top of the main page will always give you the latest sighting of this "writer on the run."
---

ALOHA! Thanks to Continental Airlines, by this time tomorrow, I will be in Hawaii, covering the 50th state of this tour. (Needless to say, I'm as happy as a UPS driver these days.) Hawaii is not just another state, in my heart, for it is the place where Ernie Pyle wrote some of his most memorable peacetime dispatches (about a leper colony) and where he is buried. I am pretty much stepping off a cliff, here, as I won't have my usual means of transportation and shelter - I bought a backpack and filled it with everything I'll need, and even if I have to hike clear around Oahu, it will be a wonderful walk. I was overwhelmed by the tremendous response you readers made to my email requesting information, and I should do just fine there.
---

The Longest Day
THURSDAY & FRIDAY, NOVEMBER 11 & 12, 1999
HOUSTON, TEXAS to HONOLULU, HAWAII
After traveling at the speed of sound, Mark falls fast asleep.
Posted November 15, 1999

---

Remembering You - One of my goals of this trip has been to visit places along the journey taken by Ernie Pyle, and the National Memorial Cemetery of the Pacific, in Honolulu, Hawaii is where he now rests. The "Punchbowl" lies in a shallow depression of an extinct volcano, and with no upright tombstones, it looks like a large field with dots of tropical flowers. The skies above this island today are filled with heavy, wadded clouds, dark with water, sprinkling the Punchbowl like someone passing a watering can over us. This cemetery may well represent our country's largest group of lonely souls below ground, as it holds remains of thousands of people who died in WWII but whose kin did not request that they be returned to the mainland. They are visited daily by many tourists on buses, however, and a few are visited by friends and families who live here. Pyle lies next to astronaut Ellison S. Onizuka, near the roadway, so buses can slow down, and tourists can take photos of both markers in one shot.

Driving out of the Punchbowl, I head up Round Top Mountain, chasing the stormy clouds. It is a beautiful ride up the winding road, with frequent and commanding views of Honolulu and Pearl Harbor. Along the way, the clouds can hold their burden no longer, and rain falls through the open top of my rented SUV. The song; "I Will Remember You" plays on the radio and I think about how a cemetery isn't so much for the dead as it is for the living, as a way to assure us that we will be remembered after we die, and those men and women who fight for the freedom of our world's people, do so with the tacit belief that they will be remembered not only by their loved ones, but by their country as a whole. I drive away from the very people who saved our world from evil, and the rain starts coming down hard, and the water runs down my face.
---
HARLEY FOR SALE, somewhere in Houston. I won't be needing it, because I'm not leaving this place - ever. Hawaii really is paradise, with incredible scenery and weather, and wonderful, friendly people. If I can just stay away from tourists, I may just call this place home. I had hoped to have an adventurous time here, sleeping on boats and living carefree, but I gave in, and found a nice cabin on Kane'ohe Bay - I even rented a beach-mobile for a week.
Possible the most dramatic stoplight in America, but just another view from traffic in Kane'ohe, Hawaii.

This is the most relaxing part of this trip. I have a strong lead on a good story, I'm wearing swim trunks and driving barefoot for the first time in years, I bought a little radio at a second-hand shop and found a quaint, native station playing a pleasant mix of island music and native versions of mainland songs. The surf is high and dramatic, the mountains inspire awe, a thousand birds awake me each morning and the Christmas tree ship will arrive on Friday. Life is pretty good right now.

---
They call it the "Aloha" state, not because aloha means "goodbye" nor "hello" but because it means love and kindness, and wishes for wellness, and that's what Hawaiians seem to wish for everyone. There is a little bit of everybody here, and the state has its share of problems, but overall, it seems like a gentler place. Blame it on the isolation or blame it on the culture, but just hope the aloha holds out against the great odds of today's society.
---
Three things people say everywhere about their home towns,
but which are actually true in Hawaii:

1. "Don't like the weather? Wait 5 minutes and it'll change."

2. "This place is a melting pot of cultures."

3. "People around here drive like maniacs!"
---
Remembering You, Part II - I toured the Arizona Memorial, among dozens of Asians, and was pretty confused until I learned that they were Koreans. They were all respectful, taking turns posing in front of the white memorial spanning the sunken tomb. I was actually most embarrassed by a family of Americans. It was a thirty-something couple and their two, middle-school aged daughters. Mom was pleasant, but Dad was loudly reading off the interpretive plaques and practically giving a play-by-play of the disaster - I tried to move away from them. One child was prancing about, chanting, and neither parent felt like stopping her. Their behavior would have turned heads even at Disneyland, but we were standing where 2,433 men had died for peace, and my stomach was turning. We are very fortunate that our generation is so naive to the magnitude of that horrible war, and I should have watched these clowns with the serene feeling that such violence is ancient history, but when I saw the girls actually dancing across the lawn, and Dad grinning with his eye to a video camera, I very nearly lost it. Someday, there will be no more people alive who remember that horrible day, and someday maybe, there will be no more people alive who even remember war, and that will be a beautiful day, and then, out of gratitude, maybe we'll all come to places like this and dance.
Teaching the Life
FRIDAY, NOVEMBER 19, 1999, HONOLULU, HAWAII
A culture's greatest tradition is its language, and Roblyn Kehau-Smith is preserving Hawaiian culture.
Posted November 26, 1999

---

Green Eggs and SPAM! - "It's the prime rib of Hawaii," says the morning DJ of KINE 105FM as he reads another Thanksgiving meal recipe featuring Spam, the unlikely favorite of Hawaiians everywhere. Throughout the rest of the United States, this processed meat food is enthusiastically shunned, but here in paradise, the mere sound of a metal lid being pried off a tin can will have these locals doing the hula. I asked Laurie Chong, the clerk at the YWCA camp, what her favorite Spam meal is, and she replied; "Spam is a meal in itself!" I don't know if it is the way the stuff mixes with Hawaiian foods, or if the U.S. military brought it over here, but Hawaiians love it, and no doubt, the Hormel Company loves Hawaii.
---
Eye on Paradise - Nearly a century ago, the Army cut its way into the shallow Diamond Head crater and built a covert, 4-story lookout post in the seaward cone. Pearl Harbor was a strategic port even before WWI, and from here, soldiers could see enemy craft coming and ensure protection for Hawaiians. For decades, they would stare out at the beautiful ocean all the live-long day, until December 7, 1941, when all that beauty was covered in black smoke.

---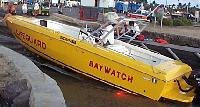 Sure beats the cross-chest carry - In the 1960's, we had "Hawaii 5-0" in the 1970's, we had "Little People" and in the 1980's, "Magnum, P.I." The 1990's were pretty quiet for Hawaii and television, but let's hope the 2000's give us plenty of "BAYWATCH HAWAII!" I happened upon the crew wrapping a day's work in Maunalua Bay, and wondered if all lifeguard stations have 25-foot Wellcraft boats, with dual, 225 hp outboards.
---
On the Utah - We try to remember everyone who fought for our freedom, and it is compelling to join ranks in recognizing the largest disasters. Millions visit the Arizona Memorial, where the most people died from the attack on December 7, 1941. But few visit this memorial, near the half-sunken U.S.S. Utah, on which dozens of men died that day. It is on Ford Island, inside the Navy security gate, and is more difficult to get to. The rusting hull will someday crumble into the Harbor, but the flag will still fly, and given the massive numbers of our soldiers who have died around this world, we have done the best we could.
---

Two pots of gold - Those who say you'll never see a complete rainbow, have never been to Hawaii. This one appears quite often, I'm told, over the valley east of Diamond Head, and it isn't even raining. It appears because of the heavy mist that drifts in over the crashing waves and rests beside the rising Koolau Mountains. You can also see a rainbow on nearly every vehicle here, because it is the "Official State Weather Phenomenon" (my bad) and adorns the state license plates. Hawaii can boast fewer out-of-state plates than any other state (I saw only three in eleven days on Oahu) and also the fewest motor homes (I saw two very small ones.) Even though they do have "interstate highways" (ha-ha) named as such for the federal funding, they have very few 18-wheel trucks, and no billboards. Hawaii has our country's only (I'm told) cruise ship flying an American flag. (Ships carrying paying passengers only between U.S. ports must be of American registry and have an American crew.)
Hawaii also has no snakes, I'm told, and I've also been told that it is the only U.S. state where coffee is grown. Hawaii does have an active volcano and even snow (on mountains.) Here is "Bob II," my island motorcycle. I confess that this event is actually a 49-state tour by motorcycle and 1 state by Suzuki Samuri and the reason is that bikes rent for $140/day here, and this beach buggy was only $200 for eight days. That ought to emphasize the point that this is a writing tour, and not a riding tour.

---


Double Team Work - At Wailupe Beach Park on the southern shore of Oahu, I saw these racers pushing along the shore. It's a group from a local canoe club - I forgot the name - who practice here. This is a double canoe, for training, and the singles, with the traditional outrigger are still popular here - not just for the tourists. High schools encourage "canoeing" (not a Hawaiian word) in competition similar to the mainland's Crew racing.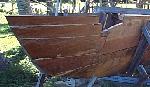 Up near Waiahole, on the eastern (windward) shore, I saw this canoe, which a man has been building for about a year, a neighbor says. She said that he is making it all with hand tools (no electricity) and hopes to enter it in a large competition to celebrate the millennium. I noticed that he is really taking his time, using traditional wooden pegs and actually tying planks together with rope - I wonder if he plans to celebrate this new millennium or the next one?

---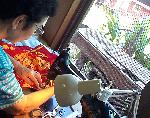 A Stitch Back in Time - Katherine Kawaguchi has sewn swim trunks and other garments on Hawaii's north shore for decades, on her old, electric Singer machine, with the tropical breezes wafting over the banana leaves just yards away. For a seamstress, this isn't a bad gig, and it kind of makes you want to toss your snow shovel and your $90,000/year job, fly to Hawaii, walk to Haleiwa, drop into the H. Muira store and start a new life in an old world. Opened (in another location) in 1919 by Japanese immigrant Husakichi Miura, the family has been clothing everybody from cotton workers to surfers, using everything from sturdy canvas to the traditional palaka fabric.
---
Saving Taxpayer $$$ - Quarter Master, Second Class John Peeling (below, in whites) gave me a tour of Submarine Pacific (SUBPAC) around Pearl Harbor. We have several nuclear submarines here, and when a storm knocked the electricity out on the island, they simply plugged a big, fat extension cord into two of the subs and ran the whole island from the harbor. Cool. They practice firing torpedos around here, and rather than build new ones, they send boats out, like the "Chaparral" above, to collect them.

Keeping the Watch - We also toured Kaneohe Marine Base ("Three Kings was playing at the base theater - what a country!) where we met a few good Marines guarding the runway. They were in a fire truck, and I wondered if they were expecting an emergency landing and were about to "foam the runway!" Corporal Hardin said that a crossing gate was broken and they were just keeping jets from landing on cars. "We don't foam the runways anymore," he said. "About ten years ago, they realized it wasn't effective." (left to right: Lance Corporal Ramos, Corporal Hardin, QM2 Peeling & Private Smith.)
---

My Scuba Babe
SUNDAY, NOVEMBER 21, 1999
80 FEET DOWN, 1 MILE OFF OAHU'S LEEWARD SHORE, HAWAII
When the divemaster clutches your hand and pulls you toward the ascent line, you are now swimming for your life.
Posted December 4, 1999

---
Lei Lady, Lei - Maryse (foreground) laces ginger flowers together to make a Micronesian lei, and Shirley strings tuberose carnations for a more standard one. They didn't want to give their last names, but they work for Kathy's Flower and Leis, on Smith Street in the Chinatown district of Honolulu. Leis are still very popular here, and not just for tourists. You can buy a beautiful one for $3 - $25, and it's great for a date, birthday, or a cheap way to reward that special employee. "Leis are given for good luck," says Bronson Phanphongsa, one of the owners.
---
True Honolulu - McGarrett and Magnum were right - there is more to Hawaii than Leis and palm trees, and I had an interesting night in downtown Honolulu while waiting for a red-eye flight home. First, an entire block near Hawaiian Pacific University was barricaded by police because, as someone told me; "there's a crazy man in the building!" Then I met Tammie, a prostitute who was leaning against the wall of a funeral home, at the corner of Pauahi and Nuuanu Streets, looking for work. I stopped and asked about her job. "It's pretty dangerous sometimes," she said, "but I like the freedom." Business was slow, and we talked for a while, about how much she earns (at least $30) and how police don't bother her. I could hear a congregation singing "Amazing Grace" inside the funeral home, and I wondered aloud if the service was for a victim in the Xerox shooting, but she didn't know. She looked pretty young, but worn out, like she had been aging quickly, and though she said she'd only been doing this for three years, I suspected that she would be in this trap for life. Remarkably, her "boyfriend" showed up. She said she had to leave, and as I crossed the intersection, I watched them walk down the sidewalk. By the time I crossed over Nuuanu Street, I looked back at the funeral home and saw Tammie leaning against the wall.
---
Back in the High Life Again - As the crowd flooded into gate 60 at LAX, I dreaded the flight to Houston. I live for the open road on a motorcycle, and when it comes to sitting in a crowded airplane for three hours, I'd rather ride a garbage truck. When the Continental Airlines gate agent called for volunteers to give up their seats, I sprinted to the counter. They didn't bump me to another flight, but to thank me for volunteering, they bumped me into first class. Now, this is flying! Super-wide, leather seats, plenty of legroom, no damn beverage cart, and an awesome meal. I really enjoyed the fruit dish and the scrambled eggs in a hash-brown cup, with a thick slice of ham, but I had unreasonable affection for the real silverware, glassware, linens and glass salt and pepper shakers. What a beautiful way to say goodbye to a beautiful state - Aloha!
---

Date: November 27, 1999
Location: Houston, Texas
Recent Stops: Hawaii: Kaneohe, Kahaluu, Punaluu, Kahuku, Kaena Point
Next Stop: Louisiana
Mileage so far: 48,867

Giving Thanks - Living a single life, far from family, I had grown to dread the ritual of driving for hours to a relative's home for a Thanksgiving meal. This year, I met a wonderful new friend who lined me up with possibly the most enjoyable Thanksgiving dinner I have ever had. Melissa Noble (left) and I walked over to her friends' restaurant in the museum district of Houston, and we had a delicious repast. "Chapultepec" is a fine, Mexican restaurant that is open 24 hours a day, 364 days each year. On Thanksgiving, Thelma and Francisco Valle close the place and invite friends and family over for fun, food and friendship. It was a special time, with special people - the Valles are warm and conversational and a joy to be with. Thank you!
---
Looking for love in all the wrong places. (Lone Rider Meets Lone Star Girl) - You hate that awkward dance of courtship - the interweaving of two minds and bodies - but you go through the "bio's" and the sizing-ups, and you do it for love, even though, as a guy, your definition of love, at this point, is a bit unlike hers. You don't like being on this stage. "How do I look? How should I act? How do I compare to other men?" You hate the uncertainty and the perceived rejection, and you hate the feeling that your every move looks lame. You have spent years running from such fears, and as a result, no one has been able to come near you. In a bold moment, you touch her - nervously, as if holding a precious vase - and you try to be cool, but your leaden hands betray you. You take her for a motorcycle ride, and the slightest touch is a gift; the press of her thighs as you accelerate, the fear-wrought embrace you earn by breaking seventy. One morning, you somehow dredge up the nerve and you feebly ask; "will you dance with me, Miss Melissa?" And she does, and it is your first dance in years, and the last with her. Yes, this is all you're going to get, and as much as you would rather be remembered as the guy who taught this girl to "gasp for breath and scream for more" you will only be the guy who taught her how to sort her email. But you don't feel rejected, because she accepts you so warmly, and after several days, you grow very close, and you explore each other without the confusing physical relationship. You discover that you have much in common, for your interests, your passions, and your hopes and dreams, and you respect and admire her and are bewildered when you realize that she does you. Then she stands in the street and gives you one last embrace, and you ride off for another adventure, and as you weave through the maze of Houston freeways, you think about her, and you think about your life up until now, and you realize that, for the first time in years, you have known love.
---

(The Houston, Texas art world is so unusual, it will make your head spin.)
True America Tip
PHOTO ALBUMS
The collection of True America CD photo albums is available from the main page. Here are two:


Click on the sugarcane to view the
True America Louisiana photo album.




Click on the lush mountainside to view the
True America Hawaii photo album.


---