Greetings from Florida!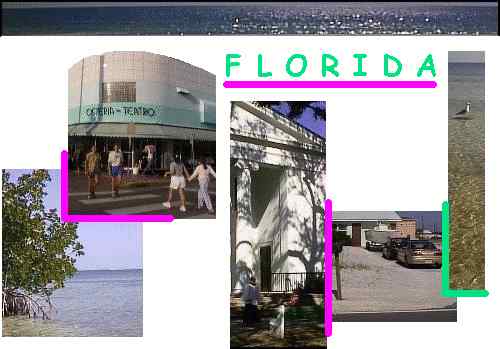 (Clockwise, from lower, left, below the sea): Mango trees on Lake Surprise near Biscayne Bay and the Florida Keys. ::: Miami Beach, where the elite meet to greet in the heat. ::: A church in Appalachicola, which was shipped to this panhandle city from New England. ::: a gull wading off of Tavernier Key. ::: Talk about living on the beach, this guy's front lawn, driveway - and surely his living room - are all sand!
February 5 - March 16, 1999
December 25, 1999 - January 1, 2000
But, could I live there? - Could I? Heck, I did just that for 15 years! Riding around this country for the past year, I found many beautiful places to live, but the more I saw, the more I missed Florida. I'm just a sucker for tropical breezes, brilliant sunshine and the big, beautiful sea. On this trip, I saw places in Florida I had never seen before and I would like to see again, if you know what I mean.
ARTICLES
---


From Cuba, with Love
THURSDAY, FEBRUARY 25, 1999
LITTLE HAVANA, MIAMI, FLORIDA
Come to one of the most popular parks in Miami, where you come to play and you play to win.

Saving Life
FRIDAY & SATURDAY, FEBRUARY 26 & 27, 1999, THE FLORIDA KEYS
In the delicate balance of the Florida Keys ecosystem, three people hold onto life as we know it.

Into Thin Air
SUNDAY, FEBRUARY 28, 1999
920 FEET OVER POMPANO BEACH, FLORIDA
It weighs tons, yet is lighter than air.


Daytona Bike Week 1999
MONDAY, MARCH 1, 1999, DAYTONA BEACH, FLORIDA
Come down for the ride, stay for the roar.
TOUR THE HARLEY-DAVIDSON PLANT, in York, Pennsylvania


Time Flies
SATURDAY, FEBRUARY 6, 1999, BEACON HILL, FLORIDA
Could you live in a town where you have to set your clock each time you cross the street? These people do!
Posted FEBRUARY 28, 1999